Crap (WC)
From Valve Cut Content
Crap (WC)
Info
Engine
Pre-Release Source
Game
Half-Life 2
Leak
WC Mappack
Map Date
April 22, 2003
Editor Build
2369
Map Date (NET)
April 20, 2003
Crap is a simplistic testmap. It may have been used to test water shaders.
Overview
Crap is an oddly-named testmap that was most likely intended to test the behavior of textures underneath a water brush. The wall bordering the water and floor are textured with brick/brickfloor001a, but the (26) cubes within the water vary more greatly between 4 different textures. A, of course, brickfloor001a-textured staircase is also included, which goes up to the skybox and down to the bottom of the watered area.
Appearances
Referenced Assets
Entities
Materials
Models
Unused Visgroups
1 object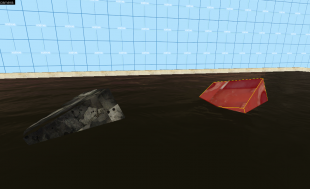 Another rotated brush placed close to the first. It uses BRICK/BRICKWALL032C, instead of concrete/concretefloor022a.
Gallery
In-Game
Hammer