Derek Jenson Portfolio
From Valve Cut Content
Derek Jenson's portfolio contains several clips of Half-Life 2's models performing various animations, with many appearances of early content scattered throughout.
Overview
Discovery
On December 21st, 2017 Dindex posted a link to the portfolio[1], rediscovering it. He commented alongside, "I don't think no one has seen this before."
It is worth noting, however, that the Half-Life 2 section of the portfolio has been available in its current form since at least December 22nd, 2011[2].
Two days later, Akis_02 posted a message[3], stating that his friend epicplayer40 had contacted Derek about the renders. It includes this quotation:
At one time I had the source for the whole game. But I worked on that project 13-15 years ago. The HD that held that data was wiped and recycled a long time ago.
Videos
Notes
Barnacle Taste
The solid-gray rat model present in the Leak makes an appearance, with animations not present on the Leak counterpart.
Barnacle Attack
The early 2004 Combine soldier is used.
The animation shown does not make an appearance in the final version.
Soldier Deploy
The early 2004 Combine soldier is again used.
The OICW worldmodel the soldier is carrying appears to be using an earlier texture than the one in the Leak.
Gunship Fire
The animation being played is actually "reload_nose_weapon".
The gunship being shown in similar in appearance to the Leak's, with no blue lighting along the bottom.
Zombie Run
Although the fast zombie model is identical to the final version, the headcrab atop it uses the Leak's texture.
Zombie Attack
The Leak's model is used.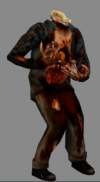 Admire Suit
The "clench" at the end is much more pronounced.
The HEV hands use an early version of the texture that is identifiable by its white thumbs and fingers.
Turret Fire
The firing particles are different.
The model has a pre-defined outer casing that does not appear in the final release, but is still in the texture sheet.
Combine Gate
Nothing of note.
Seagull Hop
Nothing of note.
Half-Life 2 Rigs
On the first scene, Alyx drops down from a dev-textured rail.
In the second scene, the 2002 antlion skin is used.
References